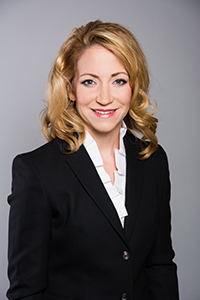 Jessica Bentz is the managing lawyer of Bentz Holguin Law Firm, LLC, a Chicago law firm that concentrates in the areas of tax law, debt settlement, foreclosure defense and bankruptcy law. Mrs. Bentz is an experienced debt relief litigator who is licensed in the State of Illinois and Florida and holds a license to practice Federal law in Indiana and Illinois.
During her legal career, Mrs. Bentz has litigated hundreds of cases and participated in a reported case, in which the Supreme Court of Florida affirmed an award for social security benefits Mrs. Bentz obtained for her dependent client.
Mrs. Bentz has several years of complex litigation experience. She has tried contested matters – involving issues such as IRS contested debt, foreclosure defense, felony criminal prosecution, validity of credit card debt, and the rights of an interested party to save a home from foreclosure- before both judges and juries in Florida state and juvenile courts and Illinois Federal courts. She has extensive experience in resolving contested debt negotiation matters.
Mrs. Bentz is also an experienced juvenile criminal lawyer and has successfully represented the State in prosecuting solicitation, burglary, drug related offenses, as well other violent criminal acts.
After completing law school, Mrs. Bentz began her legal career as a prosecutor in Orlando, Florida. Thereafter, Mrs. Bentz served as an Assistant State Lawyer for the State Court of Orange County, where she prosecuted individuals for misdemeanor and felony criminal offenses, including juvenile violence cases. After leaving the Office of State Lawyer, Mrs. Bentz became lead Counsel to Land Design South of Florida, where she assisted the architectural firm in its consideration of potential land planning sites and assisted in interoffice employee policy and client collection, in accordance with the FDCPA. In 2008 Mrs. Bentz relocated to Chicago, Illinois where she focused on Bankruptcy and Debt Settlement Law. After working for one of the largest Bankruptcy Firms in the city of Chicago, Lawyer Bentz established her own law firm in 2009.
Mrs. Bentz's professional activities are numerous. She is an American Bar Association long time member and has headed several seminars on Consumer Bankruptcy Law. Lawyer Bentz is also a two time award winner for Best Consumer Bankruptcy and Debt Services in Chicago for 2011 and 2012.
In addition to her private practice and judicial work, Mrs. Bentz also speaks to groups and trains other lawyers, regarding bankruptcy law matters. Her speaking engagements have included religious groups as well as corporate clients to discuss consumer bankruptcy, debt pitfalls, home modifications, and foreclosure defense.
Mrs. Bentz received her Bachelor of Arts degree from Stetson University and her law degree from Barry University School of Law in 2006. She was admitted to the State Bar of Florida in that same year and to the State Bar of Illinois in 2008. She was then admitted to practice Federal law in Illinois and Indiana.