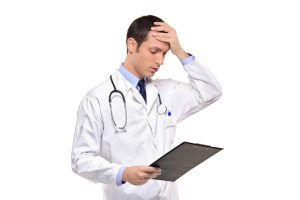 When Chicago area residents visit a doctor or a hospital, we expect to receive the best possible healthcare the medical profession has to offer. Unfortunately, that doesn't always happen. In fact, medical malpractice is virtually an epidemic in the United States today. It's a leading cause of death; in hospitals alone, up to 98,000 fatalities a year are attributable to malpractice. Also every year, more than 1.3 million people – people already sick or injured – suffer additional injury because of medical malpractice. If you or someone you love has been injured by malpractice in a Chicago-area hospital, clinic, doctor's office, or nursing home, get the legal help you need to obtain the compensation you deserve. Contact an experienced Chicago medical malpractice attorney at the Bentz Holguin Law Firm at once. You may be compensated for treatment costs, lost income, and other expenses arising from your malpractice-related injury.
HOLDING THE NEGLIGENT ACCOUNTABLE
Physicians, nurses, chiropractors, dentists, hospitals, and nursing homes need to be held accountable for the pain and suffering they create when they perform negligently. We are the Chicago medical malpractice lawyers who can help you win the compensation you need and the justice you deserve. Medical malpractice can happen in a variety of settings and harm us in a number of ways, including:
– Delayed or incorrect diagnosis
– Anesthesia or surgery mistakes
– Improper consent before a procedure
– Improper treatment
– Birthing injuries
– Prescription drug mistakes
– Negligence
SUCCESSFUL REPRESENTATION
The Chicago medical malpractice lawyers at the Bentz Holguin Law Firm bring years of experience to every medical malpractice case. We have successfully represented scores of medical malpractice victims and prevailed in several multimillion-dollar verdicts and settlements. When you are represented by the Bentz Holguin Law Firm, one of our experienced Chicago medical malpractice attorneys will handle your case personally; you aren't shoved over to an assistant, and you never become just another case number. The Bentz Holguin Law Firm maintains superlative professional standards; provides the highest quality legal representation at a reasonable cost; and works to bring your medical malpractice case to its best possible resolution. Contact the Bentz Holguin Law Firm today and schedule a free consultation online or by calling 312-647-2116.