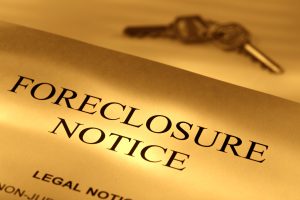 You'll probably face foreclosure if you fall behind on mortgage payments. However, Illinois law requires lenders to file formal foreclosure lawsuits. This law gives you the chance to fight foreclosure in court and gives you the time to develop an effective legal strategy. If you're facing the threat of foreclosure in the Chicago area, get the legal help you're going to need and speak right away with an experienced Chicago foreclosure defense attorney at the Bentz Holguin Law Firm.
HOW FORECLOSURE HAPPENS
If a homeowner fails to make mortgage payments, the lender notifies the homeowner of the intention to initiate foreclosure proceedings and files a foreclosure suit. The homeowner is notified of the suit. A judge will enter a judgment of foreclosure, allowing the property to be sold at auction. The judge then approves the sale and may allow the lender to pursue the borrower for damages. If necessary, the borrower is evicted.
Bankruptcy is one way that homeowners can obstruct foreclosure. An automatic stay is issued when a bankruptcy is filed, and it prevents mortgage lenders from continuing to act against you. A good Chicago foreclosure defense attorney with Bentz Holguin can discuss bankruptcy alternatives with you to decide if a bankruptcy filing is in your best longterm interests.
DEVELOPING THE BEST DEFENSE
Developing the best foreclosure defense means assessing your finances and the terms of your home loan. Our experienced Chicago foreclosure defense attorneys are familiar with effective foreclosure defense strategies and will explore every avenue of defense. We have successfully worked with scores of clients to save their homes in the Chicago area.
The foreclosure Chicago foreclosure defense attorneys at the Bentz Holguin Law Firm will handle your case personally; you aren't brushed off to an assistant, and we'll never let you become just another case number. Every client is treated with complete dignity and professional courtesy. The Bentz Holguin Law Firm maintains the highest professional standards; provides quality legal services at a reasonable cost; and works with all parties involved to bring your foreclosure situation to its best possible resolution. Contact a good Chicago foreclosure defense attorney at the Bentz Holguin Law Firm today and schedule a free consultation online or by calling 312-647-2116.