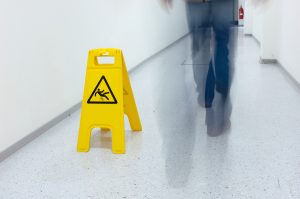 If you're injured in or around Chicago due to another person's negligence – now or in the future – don't lose out on the compensation you deserve. If you slip, fall, and become injured on another person's property, get help from an experienced Chicago slip & fall attorney. Call the Bentz Holguin Law Firm and speak to a good Chicago slip and fall lawyer as quickly as possible.
WHAT YOU MUST PROVE
Under Illinois law, you must prove three facts to prevail in a "slip-and-fall" or "trip-and-fall" property liability lawsuit:
– That the defendant was the owner or legally-designated caretaker of the property where the injury took place
– That the defendant neglected to eliminate a hazard and maintain the property safely
– That the defendant's negligence directly caused the injury you suffered
If you were trespassing or in a restricted-access area when you were injured, you probably do not have legal grounds to file a personal injury claim. A good Chicago slip and fall attorney at the Bentz Holguin Law Firm can help you determine if you have standing to sue. Be entirely honest at all times with your Chicago slip and fall lawyer. He or she will need to offer evidence of a direct link from the defendant's negligence to your injury.
YOU MAY BE COMPENSATED
If you are injured in a slip-and-fall incident, and you believe that you have a genuine personal injury claim, the experienced Chicago slip and fall attorneys at the Bentz Holguin Law Firm will handle your case personally. You won't be shoved off to an assistant, and we never let you become just another case number. The Bentz Holguin Law Firm maintains the highest professional standards; provides quality legal services at a reasonable cost; and works with all parties involved to bring your personal injury claim to its best possible resolution. Contact the Bentz Holguin Law Firm today and schedule a free consultation online or by calling 312-647-2116.