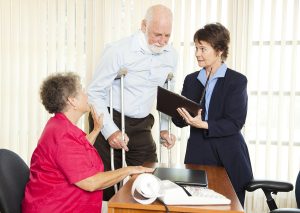 Catastrophic injuries are sudden, tragic, and life-changing. They can happen unexpectedly to anyone at any time. Unlike more common and typical injuries that heal in a few days or weeks, catastrophic injuries tend to be longterm and may even degenerate over time. Catastrophic injury victims face a future of partial or total disability and costly medical care. This is why it's essential for a catastrophic injury victim to file a personal injury claim and pursue the maximum compensation possible. Money alone, of course, can never fully compensate for a catastrophic injury, but your expenses will be substantial, and your compensation should be substantial too. If you or someone you love suffers a catastrophic injury in the Chicago area – now or in the future – get legal help promptly from an experienced Chicago catastrophic injury attorney at the Bentz Holguin Law Firm.
IT CAN HAPPEN ANYWHERE
Catastrophic injuries include spinal cord and brain injuries, amputations, severe burns, and other longterm or permanently disabling injuries. Although a catastrophic injury can happen anywhere, these injuries are typically caused by traffic collisions, sports accidents, medical malpractice, defective products, and workplace accidents. Whatever the cause of your catastrophic injury – or your loved one's injury – it's imperative to have advice and representation from an experienced Chicago injury lawyer at the Bentz Holguin Law Firm.
EXPERTISE AND RESOURCES
For a number of years, our Chicago injury lawyers have successfully represented catastrophic injury victims in and around the Chicago area, and we've won a number of important victories for our clients. If we cannot negotiate an appropriate settlement, we will bring our considerable expertise and resources into the courtroom and fight aggressively for the best possible resolution to your catastrophic injury case. We are committed to our clients and entirely dedicated to obtaining the maximum possible compensation for catastrophic injury victims.
If you have suffered a catastrophic injury due to another person's negligence; if your ability to work has been taken from you; if require medical care for years into the future, get the help you need and speak to our experienced Chicago injury attorneys right away. Bentz Holguin maintains the highest professional standards; provides quality legal services at a reasonable cost; and works with all parties involved to bring your catastrophic injury case to its best possible resolution. Contact the Bentz Holguin Law Firm today and schedule a free consultation online or call 312-647-2116.