If you are injured now or in the future by the intentional or negligent behavior of another person, Illinois law allows you to recover damages for your injury. It doesn't matter if you're injured in a traffic mishap, a medical malpractice incident, or in some other manner; if another person's negligence causes you to be injured, you have the right to recover damages. Of course, the amount of compensation you may receive depends on the specifics of your case. Injury victims are entitled to compensation for medical expenses and lost wages; some may also be awarded pain and suffering damages. In Chicago, if you've been injured by the negligence of another person, an experienced Chicago personal injury attorney at the Bentz Holguin Law Firm can evaluate your case and help you choose your best legal option. Call us today and get the legal help you need to receive the compensation you deserve.
YOUR AGGRESSIVE, UNCOMPROMISING ADVOCATE
For years, the Chicago personal injury lawyers at the Bentz Holguin Law Firm have been an aggressive, uncompromising advocate for injury victims. We have a reputation for aggressively defending accident victims, and our record of success speaks for itself. When you become a Bentz Holguin client, a good Chicago personal injury lawyer will explain how Illinois law impacts your case and will keep you fully updated as your lawsuit moves through the legal system. The Bentz Holguin Law Firm will be responsible for all negotiations with the defendant named in your suit, with the defendant's insurance company, and with the defendant's attorney(s).
WE OBTAIN THE MAXIMUM POSSIBLE COMPENSATION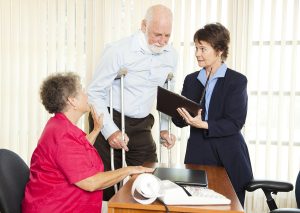 If your case goes to trial, an experienced Chicago personal injury lawyer will fight hard for the compensation you need and deserve. We make certain that your side of the story is heard, we line up evidence and witnesses on your behalf, and we make every effort to obtain the maximum possible compensation. The Chicago personal injury attorneys at the Bentz Holguin Law Firm handle your case personally; you aren't brushed off to an assistant, and you never become just another case number. The Bentz Holguin Law Firm maintains the highest professional standards; provides quality legal services at a reasonable cost; and works with all parties involved to bring your personal injury claim to its best possible resolution. Contact the Bentz Holguin Law Firm today and schedule a free consultation online or by calling 312-647-2116.